BENCHTOP DRUGS AND EXPLOSIVES TRACE DETECTOR
Test swabs for both drugs and explosives at the same time with the Bruker DE-tector. Quick and reliable results, for passenger and baggage screening.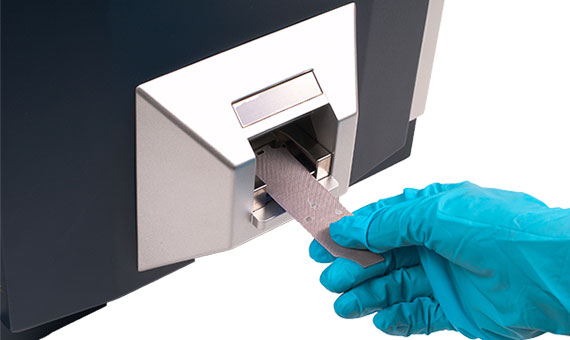 Explosives & narcotics trace detection
Non-radioactive HEPI source meets ECAC standards
Passenger & baggage screening
Simply wipe any surface (eg luggage, laptops or cargo packages) with a standard glass fibre coated sampling swab. Dedicated algorithms and a reference library automatically detect any explosives present at trace concentrations (low ng range).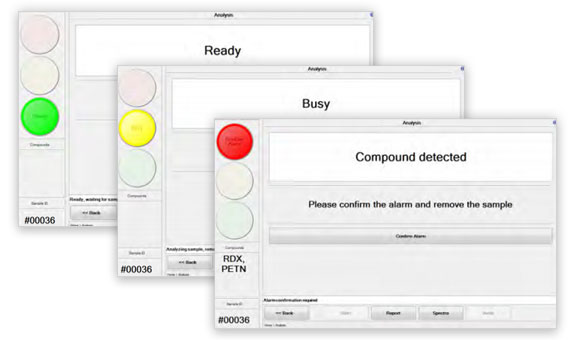 Quick Results
The touch-screen can either show results as a quick traffic light display, or the full dual polarity spectra series for more detailed evaluation. Measurements are stored, so you can retrieve full measurement data at a later point.
Explosives Detection
Most common explosives can be detected, including inorganic and organic nitrates, aromatic nitro compounds, nitramines and organic peroxides.
Narcotics Detection
Detect common natural narcotics, such as opiates, cocaine and tetrahydrocannabinol (THC) related compounds, as well as synthetic narcotics, including ecstasy and lysergic acid diethylamide (LSD). This includes both standard narcotic samples and street sold drugs, which are often contaminated with different kinds of additives. All of these are detected quickly at low nanogram range.
Reliable Technology
A wide range of technologies are currently in use to detect dangerous and illicit substances. The DE-tector can be relied on for accurate results, and has the lowest false alarm rate on the market.
The system uses innovative twin tube IMS technology to test for drugs and explosives at the same time. It can be extended to test for new substances beyond those already in the library. At the heart of the DE-tector is a single ionisation chamber with a non-radioactive HEPI source, for easier compliance.
The unit is portable and all-in-one, with a smart sample inlet and an integrated printer.
Meets ECAC Standards
DE-tector complies with the ECAC standard for passenger and baggage screening.
Need More Information?
Fill out the form below and our specialist will contact you.