Detect biothreat agents quickly on-site with the Bruker pBDi. Designed for use by non-scientific personnel, the pBDi is easy to use, even in extreme conditions with protective clothing. Identify bacteria, viruses and toxins with reliable technology from Bruker's portable Toxin Detector.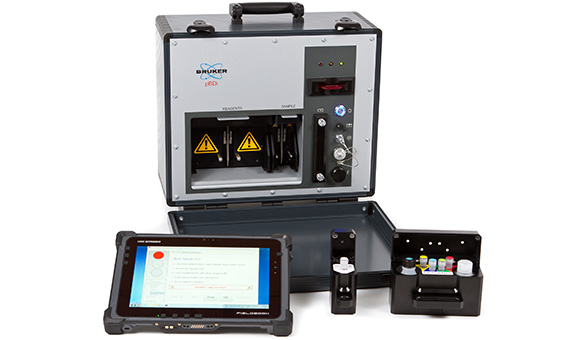 Detect biothreats on-site
Flexible and expandable, with custom kits
Bioterrorist attacks and biothreats
Biological warfare agents
The pBDi is fully portable and can be used in the field, in mobile labs or onboard vehicles:
Internal battery or mains power
Robust mobile suitcase
Connect to a ruggedised tablet PC via Bluetooth or USB
Integrate with various mobile platforms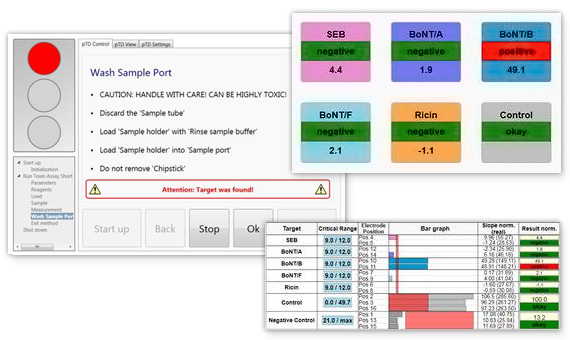 Easy To Use
Colour-coded cartridges designed for easy and safe handling, even in field conditions with protective equipment.
Universal workflow for all types of biothreat agents (bacteria, viruses and toxins).
Freeze dried ready-to-use kits: store for up to 12 months.
Wizard-based software and traffic light display.
Automated sample processing and data analysis, with results presented in a report.
Results in approximately 20 minutes, with sensitivity down to pg/ml range for toxins; 10³ CFU/ml for bacteria and 104 PFU/ml for viruses.
Flexible Detection
Detect up to 6 toxins, bacteria and viruses in parallel, from liquid or solid samples. Ready-to-use kits are available for common biothreats. A self-immobilisation kit is also available so you can run your own custom multiplex assays. Set up combinations using site-specific antibodies, with a workflow similar to the standard pBDi procedure. The platform is not limited to antibodies; it's also compatible with proteins, peptides, carbohydrates, aptamers, DNA and RNA probes
How It Works
The pBDi uses sensitive ELISA-based (Enzyme Linked Immunosorbent Assay) detection, combined with an electrochemical readout.
Antibodies captured on gold electrodes bind with corresponding biothreat agents. A detector-antibody-enzyme conjugate is used for detection, and the electrical current of an enzymatic redox reaction is measured. The electric signal is amplified strongly, for sensitive biothreat agent detection in around 20 minutes.
Need More Information?
Fill out the form below and our specialist will contact you.