STAND-OFF DETECTION OF TOXIC GAS AND VAPOURS
Monitor chemical clouds and detect 16 Chemical Warfare Agents (CWA) and more than 80 Toxic Industrial Chemicals (TIC) simultaneously in 360°, from distances of up to 5km away. Detection limits are in the low ppm range for sensitive, reliable remote monitoring in real time.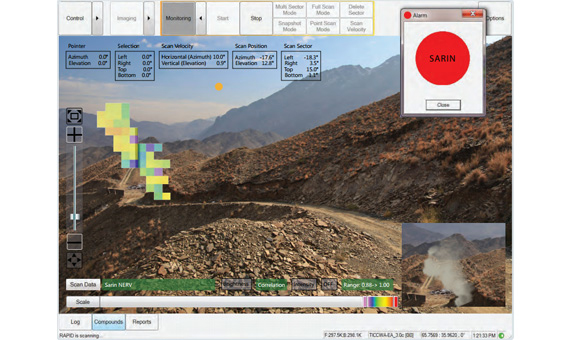 Detect substances up to several kilometres away
Colour camera for overlaying results
Static or mobile, on vehicles and aircraft
Wide area threat monitoring
Sports stadiums and high profile events
Military & maritime remote detection
Overlay Results in Real Time
A wide dynamic colour camera is integrated into the unit, which relays video in real time. Analytical displays can be overlaid on a panoramic video of the scene, for enhanced visual surveillance and quick, easy-to-interpret results. Easily visualise and understand changes in concentration and movement. Track events and survey the field from a safe, remote location.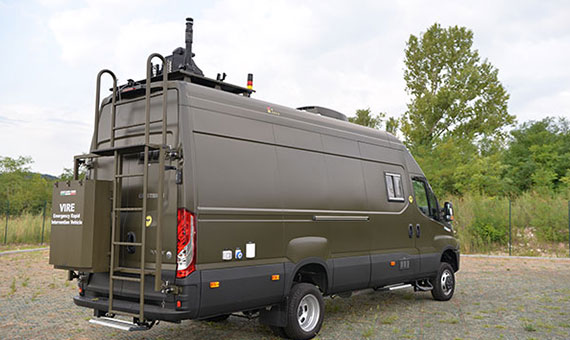 Static or Vehicle-Mounted
The system is an all-in-one, self-contained unit that can operate static on a tripod or on a moving vehicle without compromising performance. Integrate into platform-based detection systems or networks using a shock mount and Ethernet interface. RAPIDplus can also be used onboard airborne platforms such as helicopters and larger Unmanned Aerial Vehicles (UAV).
Benefits of FT-IR
Using alternative analytical techniques, it is not possible to track the dimension and movement of hazardous clouds. In addition, they are only measureable if a detector enters the cloud. With the RAPIDplus, threats can be monitored safely using FT-IR and their dimension and movement can be estimated using video overlays.
Ready for the Field
RAPIDplus systems are fully hardened according to MIL 810G and 461F standards. Only minimal maintenance and training is required, and the software is easy to use, providing data that is easy to interpret. A maritime version is also available, with special exterior and salt-water-resistant seals.
Need More Information?
Fill out the form below and our specialist will contact you.