WALL-MOUNTED INDOOR CHEMICAL THREAT DETECTOR
The Bruker TIMON (Toxic Industrial Monitor) detects all Chemical Warfare Agents (CWA) and a selection of Toxic Industrial Chemicals (TIC) at ultra-low levels.
If a threat is detected, the substance is identified and alarms or alerts are issued within seconds. TIMON also quantifies the concentration, for an immediate assessment of the threat level.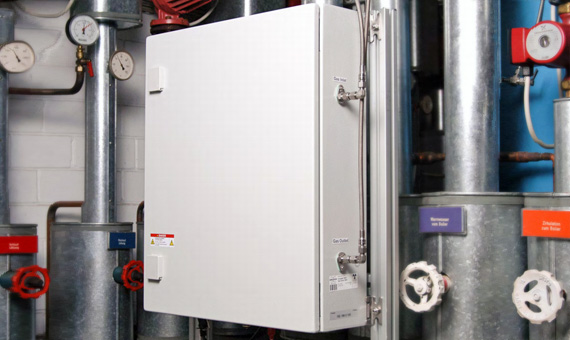 Detect toxic substances in air
State-of-the art IMS sensor
Emergency evacuation shelters (ColPro)
Underground railways and mass-transit stations
Important buildings and offices
Monitor data from a remote computer in your control room. No specialist software is required; the data is displayed in a standard web browser.
The display shows any identified substances, their concentration and the time they were detected, as well as the instrument status and condition. A mini pop-up display can be used for a quick, at-a-glance indication, with traffic light colours.
Different users and log-ins can be added to the system, with their own levels of functionality, for operators, supervisors and maintenance personnel.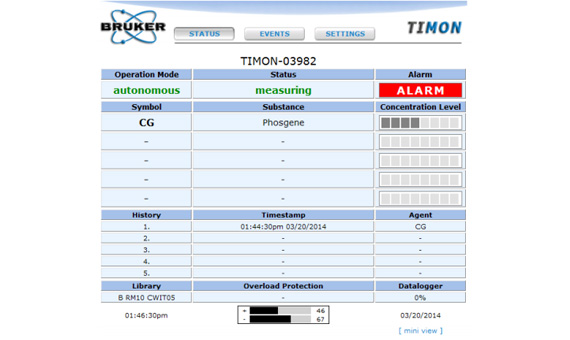 Customise Your Alerts
TIMON can be connected to lights and alarms, in addition to the control room display. Alarms can also trigger actuators for ventilation protocols, or change the flow patterns of HVAC systems to reduce the concentration of the chemical threat.
Inconspicuous Appearance
The plain metal cabinet blends into the surroundings, without branding or indicator lights, to avoid attracting attention. The function of the unit is not obvious, so it can be installed covertly in busy, public places. If regulations require the unit to be installed out of sight, a sample line is available for testing air up to 15 metres away.
Easy Installation
The unit is easily wall-mounted, and runs on standard 100-240V AC mains power. Data is transmitted using a standard Ethernet connection, and each device has its own IP address.
TIMON operates 24/7, for long periods of time without servicing. Maintenance checks are only needed after a full 18 months of use, and there is no preventive maintenance or calibration.
Need More Information?
Fill out the form below and our specialist will contact you.