Detect and locate radioactive materials with the ECOTEST CADMIUM dosimeter. Sources of gamma or neutron radiation immediately trigger audio alarms, vibration and a colour-coded light for a quick indication of the type of radiation. Levels are displayed on the screen, and information is stored for review on a PC.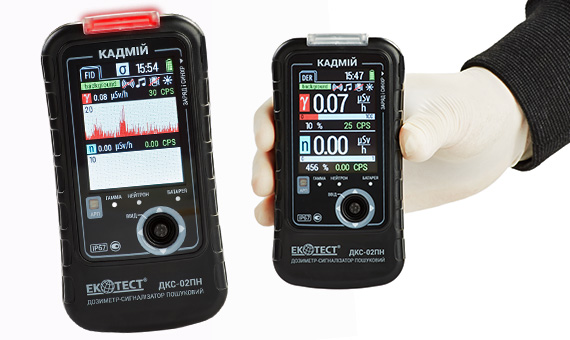 Detect illicit gamma and neutron radiation
Immediate audio and colour-coded visual alerts
Monitors DER, DE and intensity
Map radiation sources with in-built GPS
Customs and border control
Law enforcement / emergency services
Radioactive waste management
Convenient, Handheld Device
CADMIUM is a lightweight, handheld device that can also be worn on a belt. It comes in a rugged carry case and can be connected to a PC via USB for analysing data in more detail.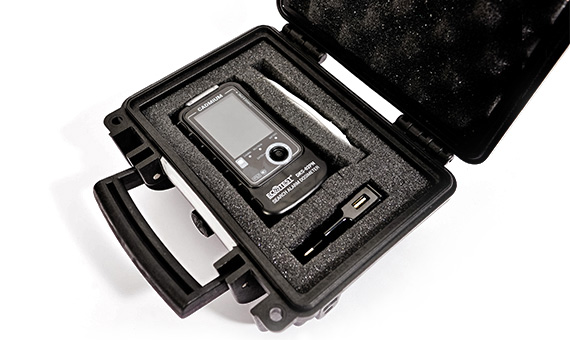 Immediate Alerts
If radiation exceeds thresholds, audio and vibration alarms are triggered. To give you a quick indication of the type of radiation, the light strip at the top of the device shows red for gamma or blue for neutron radiation. Further details are displayed on the screen, and stored for review on a PC.
Reliable in the Field
CADMIUM has an ingress protection rating of IP67, so it is completely protected against dust and sand, and can work for at least 30 minutes to a depth of 1m in water. There is no "microphone effect". It has high thermal stability and can operate in temperatures from -20 to 50°C.
The built-in lithium polymer battery is rechargeable via USB, giving you over 200 hours of continuous operation from each charge.
Map Radiation Sources
There is an integrated GPS/GLONASS receiver, so data can be displayed on a map when connected to a PC. This gives you a visual overview of radiation sources and a clear way of presenting information that's easy to interpret.
Review Data in Detail
These critical parameters are stored for review on a PC:
Ambient dose equivalent rate (DER) of gamma, X-ray and neutron radiation
Ambient dose equivalent (DE) of gamma and X-ray radiation
Intensity of gamma, X-ray and neutron radiation
The handheld device connects to a PC via USB so you can review critical events and measurement results. These can be presented in reports and displayed on a map, with GPS coordinates.
How It Works
The dosimeter uses a highly sensitive solid state (silicon) photomultiplier, with CsI scintillation detectors for gamma radiation, and LiI for neutron radiation.
Compliance
Compliant with international standards ANSI 42.32 and ANSI 42.33
Ingress protection rating IP67
Need More Information?
Fill out the form below and our specialist will contact you.