Rapid, provisional detection and identification
Stand-off and point detection
Store samples safely for further investigation
First responders and HAZMAT teams
Military and homeland security
Multi-Role Vehicle for Rapid Detection
The Cristanini VIRE/PR-ID is a vehicle for first responders and HAZMAT teams, to detect and provisionally identify aggressive agents and industrial toxics (TIC/TIM). VIRE stands for Emergency Rapid Identification Vehicle. Detect CBRN aggressive agents and toxic substances from natural disasters, industrial disasters, road accidents and terrorist acts. It quickly provides essential information so that other units can be deployed to mitigate the situation.
Fully Equipped
The vehicle is equipped with portable and fixed detection instruments, an integrated CBRN filtration unit with crew gas masks and decontamination systems for the equipment, vehicle and personnel. All equipment is easily accessible during deployment, with work surfaces and compartments for storage.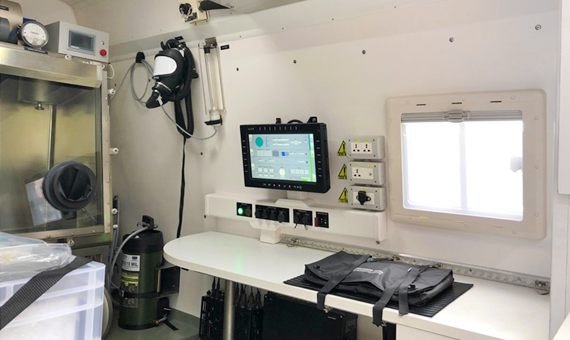 Detection Capabilities
Chemical detection: Identify and store CWAs, TICs, TIMs, VOCs (simple and combined).

Biological detection: Identify and store the most common BWAs including anthrax and Y pestis (plague), and middle spectrum substances such as botulinum toxin, ricin toxin and Staphylococcal Enterotixin (SEB), with easy-to-use immunological field tests. Endemic infective pathology tests can also be added on request.

Radiological and nuclear detection: Identify radioactive sources, nuclear residue, contamination and threats.

Meteorological data is also collected.

GPS-GPRS navigation and positioning system included.
Versatile and Discreet
VIRE is extremely versatile and suitable for operation both rural and urban areas. With the appearance of a civilian van, it can be used discreetly in sensitive scenarios including:
High risk events eg summits and international meetings, sports events, concerts.

Peace missions where discretion is required and sensitive points need to be monitored.

Prevention missions and rapid intervention eg threat of weapons of mass destruction.

Public emergencies eg industrial disasters, road accidents, terrorist attacks.

Bomb disposal operations (EOD-CBRN teams).
Transport Substances Safely
Biologically or chemically contaminated substances can be stored safely within the vehicle for further testing. There's a sampling kit for both solids and liquids, and a refrigerator to keep them at the required temperature.
Environmentally Friendly Decontamination
The vehicle can be decontaminated easily using Cristanini's efficient decontamination and detoxication systems. A single, environmentally friendly, non-corrosive agent neutralises chemical and biological agents and polarises radiological particulates, giving you protection against all threats including endemic and zooiatric disease.
When an external threat is detected, the system switches to monitoring the filtered air and provides an alert if the CBRN filter is overwhelmed. This provides an early warning of filter break-through, providing time to put on personal protective gear.
Need More Information?
Fill out the form below and our specialist will contact you.