Decontaminate planes, helicopters, equipment and personnel.
Suitable for the inside and outside of aircraft
Drive on/off road and transport by air
Aerial platform with a working height of 13-14m (45.9 ft)
Only NATO-certified TMAV available
Chemical and biological decontamination of planes, helicopters and runways
Also suitable for personnel and sensitive equipment
De-icing and snow removal (optional)
TMAV stands for Tactical Multimission Air-Transportable Vehicle. It's the only commercially-available vehicle of its kind certified by NATO, having successfully completed loading trials for transportation by air to achieve NATO codification.
Multipurpose Decontamination 
The vehicle can be deployed from a tactical airfield for chemical and biological decontamination of:
Aircraft and helicopters (including the cockpit)

Vehicles

Sensitive equipment

Personnel

Runways and terrain
It can also remove corrosive salts from the fuselage of planes and helicopters. If required, in cold climates it can also perform de-icing and snow removal from runways (optional).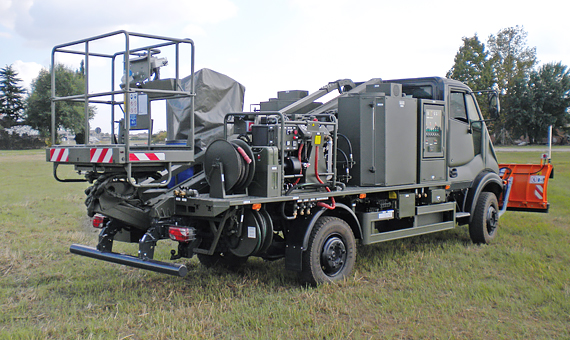 Robust Vehicle
The TMAV vehicle itself is 4×4 wheel drive and can be driven on and off-road, as well as transported by air for rapid deployment. Its aerial platform provides convenient access to all parts of the plane, with a working height of 13-14m (45.9 ft) and proximity sensors to prevent accidental collisions. It's equipped with a ground decontamination bar to the front and rear for runways and terrain, as well as a SANIJET C.921 core system, SX34 for sensitive equipment and a lance for prewash, decon/detox and rinsing.
 Eco-Friendly Decontaminant
 The system uses Cristanini's BX 24, an eco-friendly, non corrosive CBRN decontaminant. It's a multipurpose formulation that safely decontaminates chemical and biological agents, as well as polarising radiological particulates. BX 24 can be mixed with water or used as a powder, and can even be used on the skin if diluted in water correctly.
Need More Information?
Fill out the form below and our specialist will contact you.