CBRN decontamination of sensitive equipment
Dry solution, safe for use on electronic devices
Lightweight, carry-on case
CBRN decontamination of sensitive equipment
Electronics eg optical devices, radios, control panels, detectors
Interiors of vehicles, boats and aircraft
Decontaminate Sensitive Materials
The Cristanini SX 34 is a CBRN decontamination kit for electronics and sensitive equipment/surfaces. It uses a dry spray and vacuum cleaner to remove CBRN warfare agents without liquids or damaging chemical reactions.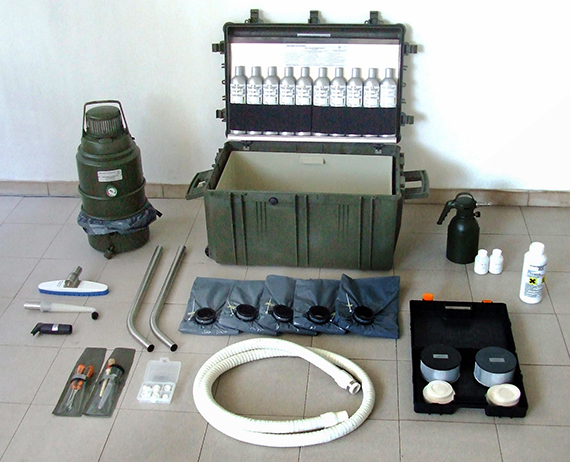 Portable Case
The kit is packed in a robust, shock-proof case that contains everything you need for a rapid response, to minimise equipment downtime and keep personnel safe. It's portable, lightweight and the kit requires only one operator.
Remove Hazardous Agents
 The solution safely removes:
Chemical warfare agents
Biological warfare agents
Radiological particulates
Chemical toxic industrial substances
Nuclear contamination
Liquid-Free Solution
The SX 34 solution is supplied in a ready-to-use, pressurised aerosol. It's non-corrosive and designed for sensitive surfaces. It can be stockpiled with a shelf life of 10 years (stored at a temperature of -20°C (-4°F) to 55°C (131 °F). The solution turns into a white powder that can be removed easily by vacuuming. Brushes and nozzles are supplied for vacuuming hard-to-reach places. If the surface is decontaminated it appears perfectly clean. If there's a white residue, it can be retreated for complete removal – so there's no doubt about whether the equipment is safe to use. All accessories can be decontaminated after use, using the BX 24 included in the case.
Capacity
The SX 34 kit includes 10 canisters of solution together with all the accessories you need. Each canister can decontaminate a surface of 10 sq m, so one kit can cover a total surface area of 100 sq m.
Need More Information?
Fill out the form below and our specialist will contact you.