PERSONAL GAMMA RADIATION DOSIMETER
The ECOTEST EPD DKG-21M is a rugged personal dosimeter for environments with high levels of dust and temperature variation. Designed to be worn on the body, it continuously monitors gamma radiation levels to keep your personnel safe, with alarms when set thresholds are exceeded.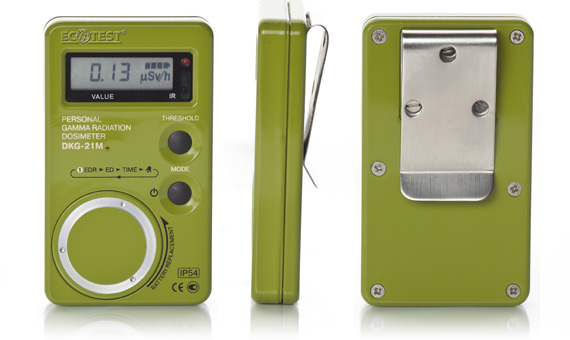 Continually measures gamma radiation DER and DE
Rugged: damp and dust-proof
Build a database of radiation exposure
Emergency services and law enforcement
Continuous Personal Monitoring
Using an energy-compensated Geiger-Muller counter, DKG-21M continually measures the dose and dose rate Hp(10) of gamma and X-ray radiation to keep your personnel safe. The device is damp and dust-proof, and designed to be worn for continuous radiation monitoring.
Each device can be used independently or within an automated personal monitoring system.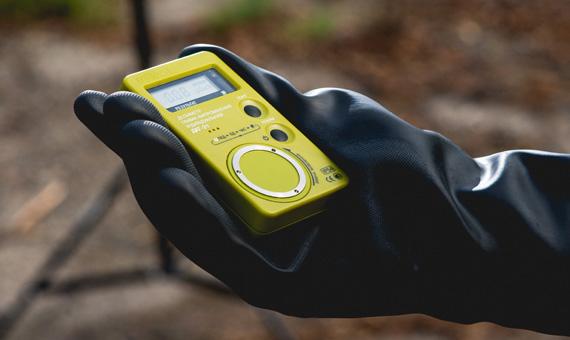 Build a Radiation Exposure Database
Data is stored and can be referenced or transferred to a PC via infrared port, to build a database record of personnel radiation exposure. Radiation levels can be presented in a table or graphically, and exported to various formats.
Set Your Thresholds
Custom thresholds can be set for dose and dose rate. When these levels are exceeded, light and audio alarms are set off.
Long Running Time
The device has a long continuous operating time of more than 3 months, powered by lithium battery.
To conserve power, the display automatically switches off when radiation levels are lower than your set threshold. The battery and detector are self-tested at automatic intervals to ensure the system is operational at all times.
Compliance
DKG-21M is currently in use with the Ukrainian Army and law enforcement agencies worldwide.
Compliant with international IEC 61526 standard
High ingress protection rating IP54
EU marked
Need More Information?
Fill out the form below and our specialist will contact you.