CBRN decontamination and detoxification
Autonomous system with built-in generator
Accessories for multi-purpose applications
Suitable for extreme conditions
CBRN decontamination of personnel, vehicles, equipment and terrain
Degassing tanks of hazmat, petrol, oil and lubricants
Sterilising cisterns and tanks
CORE DECONTAMINATION SYSTEM
SANIJET C. 921 is the core of Cristanini's CBRN decontamination and detoxification systems. It's the simplest unit, with technology that forms the basis for their complete range. A set of versatile accessories is supplied as standard, so you can tackle a whole range of decontamination tasks to keep personnel safe.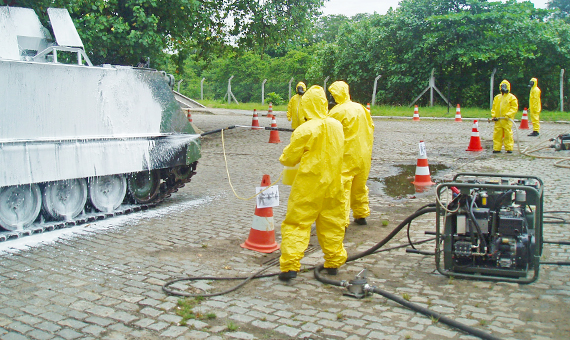 Robust and Autonomous
SANIJET C.921 is designed for military use by soldiers, with a robust stainless steel frame. Its capabilities have been tested and certified by leading independent international laboratories. The compact, practical shape can be packed, moved and stored easily, with dimensions of 85cm (33.5") x 85cm (33.5") x 84cm (33") high. It can be transported by helicopter using hooks on the top corners, and there are folding handles for carrying manually (230kg without battery). The system works completely autonomously using any fuel (diesel, bio-diesel, kerosene or JP8) and has a built-in generator, so no additional equipment is required as a power source. It can even withstand extreme weather conditions from -20°C to 50°C.
Water Temperature and Pressure
SANIJET C.921 provides cold and hot water (90°C – 194°F) at low and high pressure, as well as saturated steam up to 180°C (356°F). A lance, hose and dual-jet head are supplied as standard for pre-washing, applying decontaminant and rinsing. The concentration of detergent or decontaminant can be adjusted.
BX 24: Certified Decontaminant
The system uses Cristanini's BX 24, which is the certified universal decontaminant/detoxificant for their complete range. It decontaminates chemical and biological warfare agents, and polarises radiological particulates. It's non-corrosive and eco-friendly, and can even be used on skin when diluted correctly.
Standard Accessories
Lance with quick-release connection
High pressure hose with quick-release connection
Suction pressure hose
Double-jet head
Built-in generator
Tool box for maintenance
Athermic gloves protecting against chemicals, micro-organisms and mechanical risks
Stainless steel storage box
Customisation is also possible, to tailor the system to your exact requirements – contact us for details.
Need More Information?
Fill out the form below and our specialist will contact you.